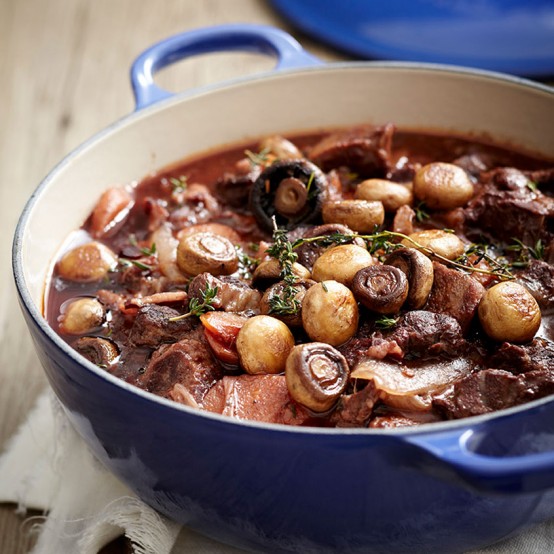 Beef Bourguignon
2017-01-17 07:38:52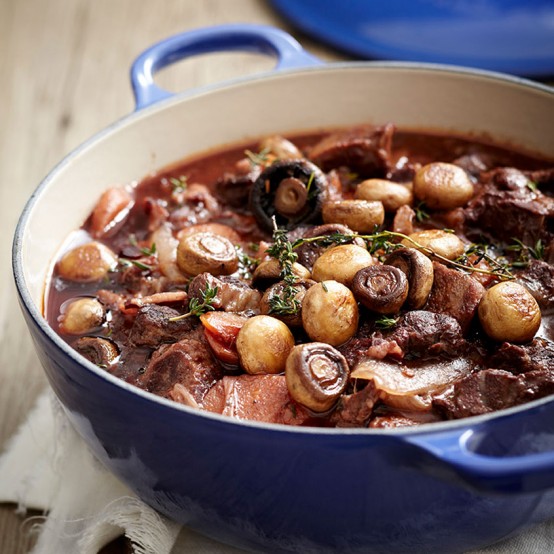 Serves 4
Ingredients
2 kg Beef cut into large bite sized pieces
sea salt
black pepper
1 cup of flour
A few glugs of olive oil
65 g butter
200 g smoked bacon or pancetta (optional)
12 shallots peeled and halved
2 celery sticks sliced
2 carrots sliced
3 cloves of garlic finely chopped
1 tbsp roast rub
350 ml good quality red wine
2 tbsp beef stock stirred into 500ml hot water
1 tbsp tomato paste
150 g whole button or chestnut mushrooms
A splash of brandy (optional)
Fresh thyme leaves to garnish
Instructions
Preheat your oven to 160°C
Season the beef with sea salt and black pepper and dust with flour shaking off the excess.
In your Le Creuset Casserole, brown the meat well all over, but do not overcrowd the pot otherwise the meat will stew and not brown.
Remove from the pot and set aside.
In the same pot, add 50g butter and gently sauté the bacon, shallots, celery, carrots and garlic.
Stir in the roast rub and add the beef back into the pot.
Add the red wine and simmer for 5 – 10mins until the alcohol has cooked off.
Add the prepared beef stock and tomato paste, stir well to combine.
Cover with a lid and bring to the boil before placing into the preheated oven for 3 hours.
In a separate pan, melt one tablespoon of butter and sauté mushrooms until just cooked and golden brown.
Flambé with the splash of brandy and add to the casserole if desired.
Serve in warmed bowls with creamy mashed potatoes and a sprinkling of fresh thyme.
23h59 http://23h59.com/