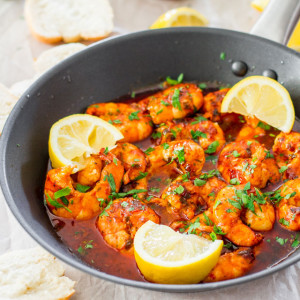 SPICY NEW ORLEANS SHRIMP
2015-11-10 12:21:30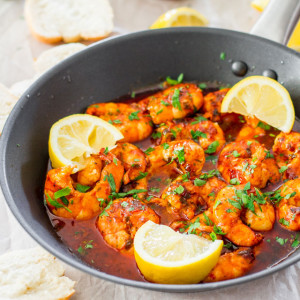 Serves 2
Ingredients
1 lb white tiger shrimp
2 tbsp unsalted butter
2 tbsp olive oil
2 tbsp sweet chili sauce
1 tbsp Worcestershire
1 tsp chili powder
1 tsp liquid smoke
1 tsp smoked paprika
1 tsp dried oregano
1 tsp sriracha hot sauce (or tabasco)
4 cloves garlic, minced
juice from ½ lemon
2 tbsp parsley, chopped
salt and pepper to taste
Instructions
Peel and devein the shrimp.
Add the rest of the ingredients to a saucepan, stir and let simmer for 10 minutes.
Remove pan from heat and let cool.
Arrange the shrimp in an oven- proof casserole dish and pour the sauce over the shrimp.
Cover and refrigerate for at least 4 hours.
Preheat oven to 400 degrees.
Bake shrimp for 15 - 20 minutes.
Serve immediately with crusty French bread and drizzle with additional lemon juice as needed.
23h59 http://23h59.com/